Martin Hauser is a certified and experienced commercial mediator facilitating
the conclusion of your business agreements through intercultural deal mediations, and
the resolution of your complex mainly transnational and emotional commercial conflicts
in the English, French, and German languages.
He offers online mediation using videoconferencing and in-person mediation sessions.
Martin Hauser has a legal background in intellectual property, IT, licenses, distribution, competition, complex industrial projects, and international business law. He has been involved in investment mediations in the telecommunications, oil and gas sectors.
Founding partner of BMH AVOCATS he has practiced for over 30 years in Paris, France, as a business lawyer in French and foreign law, in commercial litigation, international arbitration, international commercial and investment mediation, and in commercial negotiations.
Martin Hauser is an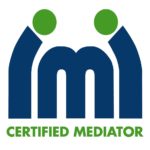 certified mediator  and is certified in Germany and in France (IFCM, Paris). He is accredited with institutions such as CMAP, Paris, ICC Centre for ADR, Paris, Paris Court of Appeals, CNMA, Paris, WIPO Arbitration and Mediation Center, Geneva, VIAC, Vienna, and EUCON, Munich.
Internationally recognized as a cross-cultural mediation and negotiation expert, he is a Distinguished Fellow of the IAM, Dallas, Officer of the IBA Mediation Committee Advisory Board and past Co-Chair (2021-2022) of the IBA Mediation Committee, London. He is a member of the VIAC Board, Vienna.
He has been invited as a professional to participate in the annual ICC International Commercial Mediation Competition in Paris, as expert assessor and member of the organising commitee of the IBA-VIAC CDRC Mediation and Negotiation Competition in Vienna, as expert assessor at Lex Infinitum in Goa, and in 2022 at the first Investor-State Mediation Competition IIMC in Colombo.
Martin Hauser is a member of Mediation & Resolution, a group of European mediators sharing experience, internationality, certification and reactivity.
Again in 2023 Martin Hauser is selected by WWL Who's Who Legal as Thought Leader Global Elite in Commercial Mediation indicating that he « is held in high esteem by clients and peers alike for his "thorough understanding of the psychology behind mediation process" and his "passion" for the field as a whole« . In 2022 he is also listed as Thought Leader in Mediation for Germany being « a charismatic, well-trained and skillful mediator » and « just so impressive in how he manages to work in several languages at the highest professional level« .
Martin Hauser is a member of the Munich (Rechtsanwalt) and Paris (Avocat honoraire) Bars. He practiced from 1988 to 2019 as founding partner at BMH AVOCATS, Paris. From 1980 to 1983, before joining Delvolvé & Associés, Paris, in 1984, he was a research fellow in French intellectual property and competition law with the Max-Planck-Institute for Innovation and Competition, Munich.
Martin Hauser holds degrees of Master of Arts (M.A.) in negotiation and mediation from the European University Viadrina Frankfurt Oder (2015), Master of Comparative Jurisprudence (M.C.J.) from New York University (NYU) (1986), Doctorate in Law (Dr. iur.) from the University of Munich (1983) and degrees from the Universities of Munich, Freiburg i. Br. and Geneva (1985, 1979, 1977).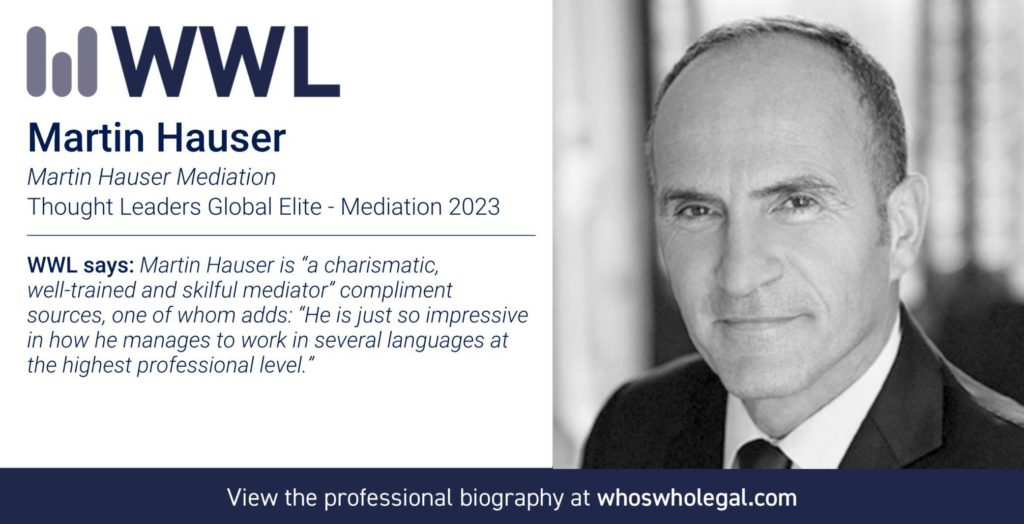 Who's Who Legal
Thought Leader Global Elite – Commercial Mediation 2023
Thought Leader Mediation – Germany 2023

Décideurs Juridiques 2022
Forte Notoriété Médiation

Best Lawyers 2019
Arbitration & Mediation

Martin Hauser meets the German national legal requirements of « certified mediators« 

Martin Hauser is among the mediators listed by the Court of Appeals of Paris

Expert appointed by the Institut Français d'Experts Juridiques internationaux